I was so very lucky to purchase a few of the many primfully perfect primitives Karen from-
My Colonial Home
had for sale at her online yard sale! It was such a treat when the goodies arrived! I even had a double treat when I logged on this morning to find Karen had visited!
Hi Karen! xox
I just know today will be a great day now that I had a happy surprise to start my day! Thank you!
It is so much fun to peek in on Karen's wonderful blog. You will find oodles of charming stories and pictures that will surely bring a smile to your face. Don't even get me started on the pizza recipe she posted! YUM!! I'm almost afraid to show my husband because I know he will give me that 'puppy dog eye look' and I then I will find myself at the grocery store tonight buying all the essentials to make that amazing deep dish pizza! I have been trying to hold out for the weekend because then he can come with me, help out with the kiddies and be the one who parks the truck in the parking lot. You see, we have a big Chevy Silverado truck and I get a little intimidated parking it in the tiny spots so I end up parking all the way in the back of the parking lot. lol!
Here are a few pictures of Karen's goodies all snuggled into their new home xox
I adore this little basket. It's new job in life will be holding my little ones crayons and markers on the children's art table... And oh my gosh! Only washable markers I should add...
I have learned that lesson time and time again! whew!
The cookie cutters that are just too darn cute for words!
Two adorable little wire hand hangers that hang on the little
trash to treasure' shelf that I made into a chalk board in the children's art area.. xoxoxox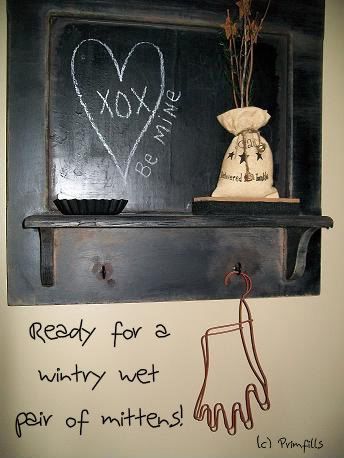 Little primitive reproductions of baking molds.. Aren't they sweet!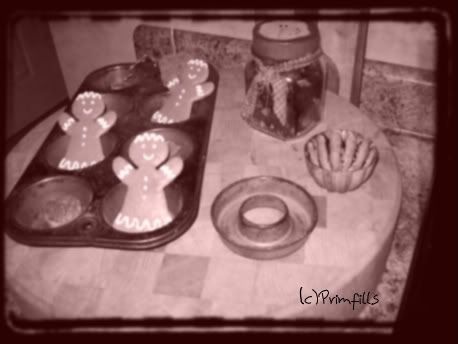 Thank you so much again Karen! I had such a fun time shopping at your online yard sale!
My only regret is that I didn't get there sooner before so many things had already sold!