Step 1. All ya have to do is cut a nice ole' piece of plywood into the shape of a prim doll bust.. I feel a little silly saying 'bust' for some reason because this lil' gal isn't very busty. Sadly, she is as flat as a board.. Let's just say- cut the nice ole' plywood into the shoulder and head shape of a prim doll...
Step 2. Mix and paint and blend and mix and blend and paint and mix and..ok whew! I will stop and get back to tutelagin'. Mix your cream and brown colored craft paint until you get a nice tea stained look to the face. Oh my gosh, do you see what a jumbled mess my paint box is! I will make sure to hide it in garage if you come to visit!
Yikes! My dirty little secret! SHHhhhh!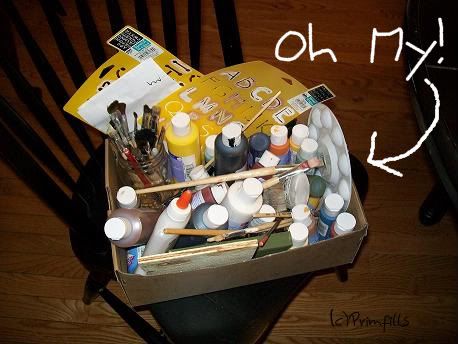 Step 3. Time to add the fabric to the bottom of the window-sitter. Using your paint brush, just Mod Podge like a crazy person until the whole wooden area under the face is covered. Next, lay your fabric down and smooth away all wrinkles..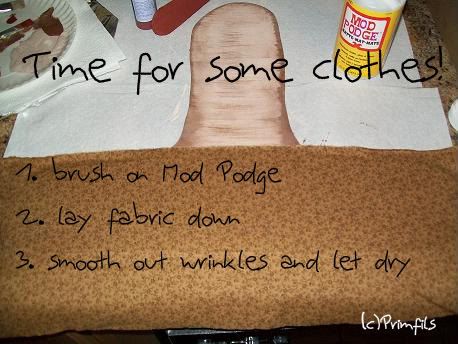 Step 4. Cut away excess fabric and Mod Podge the ends down. Oh my goodness! Guess what? It's time to do the same thing all over to the back of your window-sitter. She has to look pretty on both sides because she will be in your window and when you're outside lookin' at her she will make you smile, and when you're inside lookin' at her she will make you smile. Unless, it's 2am and you woke up because you have to tinkle and she scares the pantaloons off you when you walk past your window!
Step 5. Paint the eyes, nose and mouth on any ole' way you like. You can even add a collar if it tickles your fancy. As a matter of fact, you can add just about anything you might have lyin' around in the deep dark corners of your crafting junk drawers, baskets, boxes, cupboards...When you get it just how you like it and the paint is nice and dry- mix a little Mod Podge in a plastic cup with some water (to thin it out) and use as your final sealer. A cheapy old sponge brush works best for this. I really need to find a store that sells Mod Podge by the gallon....
Ok, for any friends here that have never used Mod Podge before. Please don't ya start hollerin' at me saying "Jobeth told me to mix Mod Podge and water in a plastic cup and use a dang sponge brush to paint this sealer on and now it has turned my wonderful wooden window sitter a plum' foggy white mess!"
I promise it will dry clear.. xoxoxox
Step 6. Yay! We are all done! Now you can dress up a window by sitting your new prim gal on that handy middle ledge portion of the window. I think I will put her upstairs in the children's bathroom. xox