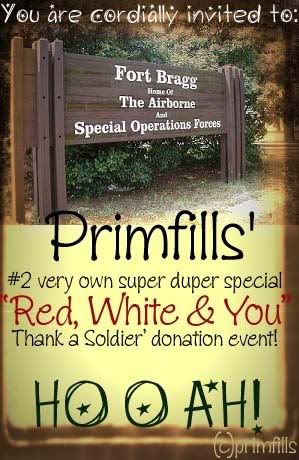 Whew lawdy! I know you would rather have a tooth pulled then read another one of my long winded posts tonight, but I would be much obliged if you could please keep ya' britches on for just one more minute! I have saved the best news for last! I want to fill you all in on our Primfills' Red, White & You donation event!
Ohhh, it's a wonderful thing I promise!
Being the wife of a Special Forces Green Beret, I see firsthand how much the men and woman who serve our great country sacrifice each day. I am always trying to think of ways to say "Thank you" and give back to them. What better way than with a wonderful patriotic prim handmade item! If you would like to donate a handmade patriotic prim goodie, along with a thank you note from lil' ole you or your business, to one of our Special Forces Heroes at Fort Bragg – Home of the 82nd Airborne and Special Operations Forces, just send me a lil' email at primfills@yahoo.com!
Your gracious gift will be hand delivered to a Soldier that could sure use a big warm thank you! Your Soldier will be someone who either will be deploying again in the near future or has returned from another long deployment. I will also add a picture of your donation, name and/or business name to a special area at Primfills.com to do a lil' braggin' about you! xox
With much love, and a great big HOOAH!
~Jobeth